Louth minors play Wexford Tonight 7.15pm in

Bellefield

, Enniscorthy
not an enviable task

.
Here's Why......
Wexford

have two games under their belt

,


a loss to

W

estmeath in the first round (and according to

reports, should have won

)
and a win over Carlow.
Where as we have one, a narrow los

s

to Dublin.
That will count in their favour, when it comes to nerves and intensity from the

beginning

.
Also, It is a well known fact

,

Wexford is a very tough place to go and play a game...(ask our Seniors and 201

1

U21's)
It is a trip into the unknown for majority of Louth players who may have never even been to Enniscorthy nevermin

d play football there.
so here's a sneak preview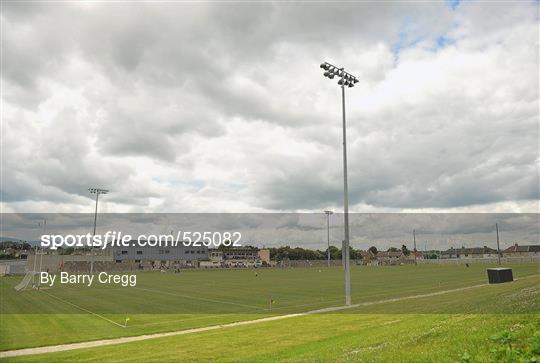 A large pitch and very, very wide, to suit the hurling within th

e county.
They'll be more familiar with it bt in the end it should suit our forwards

.
The

ir Campaign so far.
Westmeath Team
1 D Cloake
2 D Redmond 3 Jim Rossiter 4 J Reville
5 N Rossiter 6 G Staples 7 J Mc Donald
8 J Carthy 9 N Hughes
10 B Cowman 11 E Roche 12 D Shanley
13 T smith 14 P Barden 15 C O'Rourke
Subs: T Byrne (0-1) for Carty, J Bolger (0-1) for Smith, C Farrell for Cowman.
Carlow Team
1 D Cloake
2 D Redmond 3 Jim Rossiter 4 J Reville
5 N Rossiter 6 G Staples 7 J Mc Donald
8 N Hughes, 9 T Byrne;
B Cowman, J Carty, D Shanley;
E Roche, P Barden, C O'Rourke.
Subs: C Farrell for Redmond, D Barron for O'Rourke, L Murphy for N Rossiter.
Their

Scorers so far
They've scored 2-

21 in total
Westmeath 0-10
D Shanley

0

-

4 2 frees


P Barden 0-

1

each,
J Carty


J Bolger (0-1)
T Byrne (0-1)
N Hughes (0-1)
C O'Rourke (0-1).

Carlow 2-11

E Roche 1-2,
D Shanley 1-1 (1-0 pen, 0-1f),
T Byrne, 0-3
P Barden 0-3 ,
J Carty, 0-1f
C Farrell 0-1f
One's To Watch
Left wing

12

:

Donal Shanley
A huge talent at either Hurling, Gaelic and Soccer...he's their main man and just so happens to be their Top scorer also. Will punish from free

's also.
Full Forward:

Paudie Barden

H

uge Target man with Skill,
Dundalk Colleges players may remember him from the

ir Defeat to Good Counsel this year, he was midfield for them on the day.
Corner Forward

:

Eoin Roche






Played on the Forty the first day out against Westmeath and moved into the corner for the Carlow game and scored 1-2.
Right footer. Strong

physical player with a rugby background.
Centre Back

:George Stap

les
Solid, no nonsense Centre back. accomplished soccer player also.
Good Reader o

f the game.
Robbie Curran or Josh Arrowsmith will have to use their mobility to their a

dvantage against him
MIdfielder Forty

Y

ards:Jamie Carty
Big Powerful and direct unit either in the middle or on the forty.
Best Of The Rest
Midfielders: Niall Hughes

Tom Byrne
Form man at the moment scoring 3 against Carlow from midfield the last day out.
Corner B

ack's

:

Dillon Redmond
Jon Reville
THERE FOR THE TAKING ALERT
Corner Forward: Cormack O'Rourk

e
Right Half Back
:
Naomhan Rossiter
SUMMARY
Beatable
Here's How.
1.

They haven't changed their defence, and with good reason, they've only conceded 19 points in 2 games. we get over 10 points and it will go along w

ay in getting us the win.
Exploiting their full back line will be the Key, again although i don't have a clear image, the starting full back is a large physical player and Cian Doyle should look to use his place and mobility to casue problems and create free kicks

.
2.

Physical side, very much so down the middle, we need to at least break even in this area. then make ups the rest with Hard work and rely on ou

r greater skills to get us through.
3.

Their Midfield can pose an attacking threat. which means Hanna and Campbell will have to be aware and not switch off.

Also their Keeper Dylan Cloke is prone to a Bad kickout also.
4.

Get into the game as quick as we can. and settle. Start is crucial as always at minor level.
Finally
We have the character required and importantly the talent to get a win down in Wexford.
Emmet Duffy and Josh Arrowsmith in from the start have improved the team from the get go and Dean Maguire can add impact again from the line.
BEst of Luck lads!